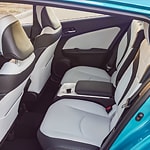 The Toyota Prius has been around for a number of years, and it keeps getting better with time. This compact-hybrid automobile takes efficiency to another level. Consumers can expect a 1.8-liter engine, striking aerodynamics as well as cutting-edge technologies.
The Toyota Prius has an interior that's ergonomic. Though this vehicle lacks total size, it still offers a plethora of enjoyable features. There's a 4.2-inch driver display that's full of valuable information, such as speed, gas mileage, and temperature. The vehicle's Head-Up display is priceless as it will display important information on the windshield, which helps to keep your attention on the road. An 11.6-inch touchscreen display sits prominently in the center dash. This screen is monumental in size as it hosts a plethora of apps, navigation, and settings. Apple CarPlay is also built-in.
Come and test drive the Toyota Prius by speaking with our knowledgeable reps as soon as possible.