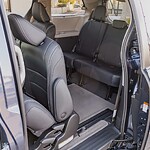 The 2020 Toyota Sienna is a popular minivan that is fuel-efficient. It can get 26 MPG on the highway and 19 MPG in the city. It is ideal for people who have families because it has the ability to seat up to seven or eight people. It also has features that are designed to keep you comfortable and make your ride more convenient.
The vehicle has a dual-view Blu-ray disc entertainment center. It comes with a remote with two wireless headphones. The screen can either display two small images or one wide-angle image from two different separate sources.
It also has a smart key system. This feature will come in handy if you have several things in your hand. If you have the key in your purse or pocket, then you can open the door by touching the handle. You can make a trip to our dealership to test drive the vehicle.