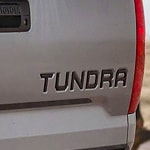 At Bruner Toyota our team knows that a bit of convenience can have a big impact on your everyday comfort. That's why we think the Toyota Tundra, a popular full-size pickup truck, is a great option. This truck is built for busy, modern drivers, so it helps you get on the road faster.
You'll never need to dig around for your keys again with the Tundra's available Smart Key System. The key fob comes with a sensor that recognizes when you're near the Tundra. To unlock the doors, just pull on the handle.
Once you get behind the wheel, don't worry about pulling out the key. The push-button start recognizes your fob, so you can fire up the ignition with a quick motion. At the end of a drive, push the button again to turn off the engine. Want to test it out? Come to our Early, TX dealership, and we'll set up a test drive.